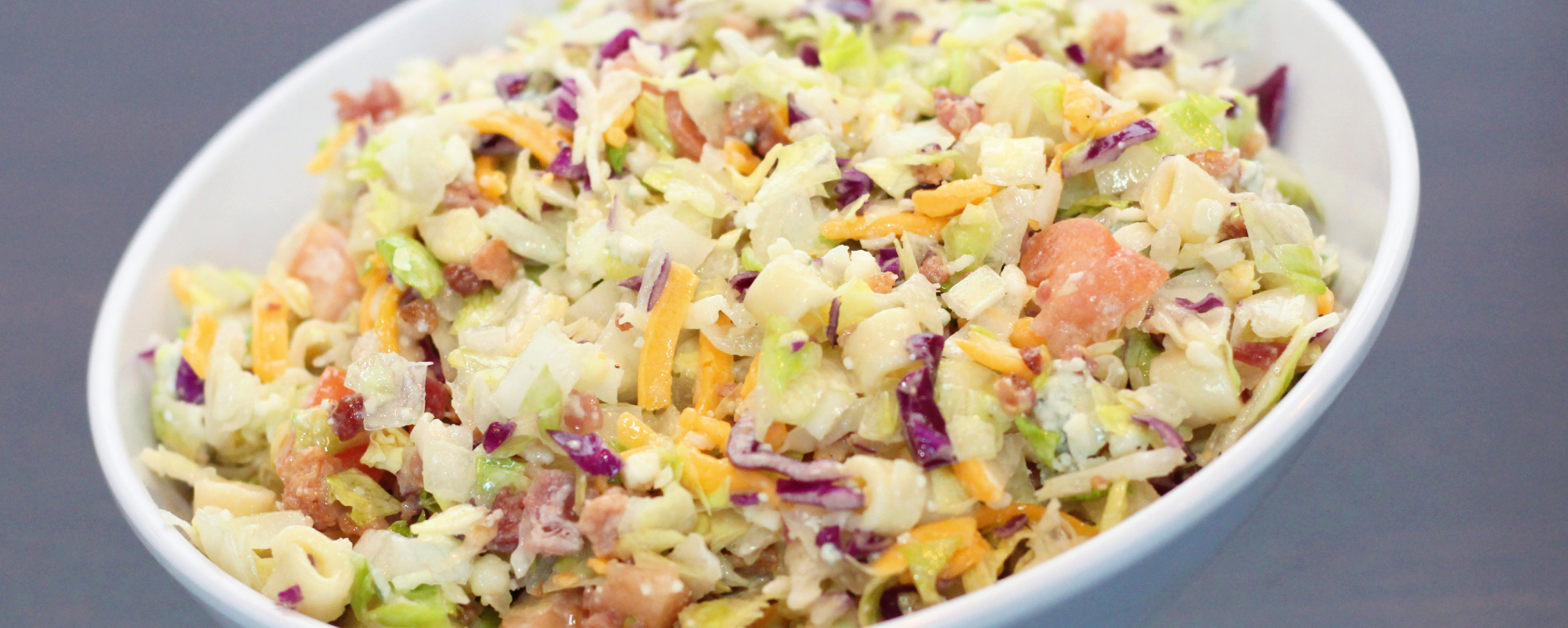 THE CHOP HOUSE SALAD
Our famous chopped salad with a little bit of this, a little bit of that…chopped greens, onions, tomatoes, shredded mozzarella & cheddar cheeses, blue cheese crumbles, crispy bacon bits & ditalini pasta tossed with our homemade house vinaigrette dressing
Full order $12.95
Half order $10.95
Add Chicken $2.25
Add Buffalo Chicken $2.25
Add Italian Meats…Pepperoni & Salami $2.25
Add Avocado & fresh mozzarella $3.50
CLASSIC WEDGE SALAD
COLD WEDGE ICEBERG LETTUCE TOPPED WITH CRISPY BACON BITS, TOMATOES, ONIONS, BLUE CHEESE CRUMBLES AND YOUR CHOICE OF CREAMY BLUE CHEESE, RANCH OR ITALIAN DRESSING
$8.95
BUFFALO CHICKEN CHOPPED SALAD
SIGNATURE CHOPPED SALAD PLUS GRILLED CHICKEN DIPPED IN BUFFALO SAUCE
FULL ORDER – $15.20
HALF ORDER – $13.20
BUFFALO CHICKEN SALAD
FRESH MIX OF GREENS, TOMATOES, CELERY, CARROTS and shredded CHEESES ALL TOSSED TOGETHER and topped WITH BUFFALO STYLE CHICKEN BREAST AND BLUE CHEESE crumbles. Choose from GRILLED OR CRISPY chicken & your choice of dressing.
$12.95
THE TACO CHOP HOUSE SALAD
a new twist on our famous salad…chopped greens, black olives, shredded mozzarella & cheddar cheeses, seasoned ground beef & ditalini pasta served with a chipotle ranch dressing and drizzled with our own lime crema
FULL ORDER – $12.95
HALF ORDER – $10.95
CHICKEN CAESAR SALAD
ROMAINE TOSSED WITH MARINATED GRILLED CHICKEN BREAST, CROUTONS, PARMESAN AND CREAMY CAESAR DRESSING
$12.95
Steak SALAD
Grilled marinated steak, cucumbers, onions, cherry tomatoes, blue cheese crumbles & sliced avocado served on mixed greens and your choice of dressing
$14.95
CHICKEN fajita SALAD
Fajita seasoned chicken, grilled onions & peppers, tomatoes & mixed cheeses served on mixed greens with a spicy chipotle ranch dressing
$12.95
TACO SALAD
TACO SEASONED GROUND BEEF, SHREDDED CHEDDAR, tomatoes, onions & BLACK OLIVES ALL ON A BED OF FRESH MIXED GREENS IN A TORTILLA BOWL. DRIZZLED WITH OUR OWN LIME CREMA AND SERVED WITH GUACAMOLE, SALSA, AND SOUR CREAM ON THE SIDE.
$12.95
ADD FRESH AVOCADO – $2.50
GARLIC LEMON PEPPER CHICKEN SALAD
GRILLED LEMON PEPPER CHICKEN BREAST SERVED ON A BED OF FRESH MIXED GREENS, TOMATOES, CARROTS, ONIONS, BACON BITS AND SHREDDED CHEESES, SERVED WITH OUR HOMEMADE HOUSE VINAIGRETTE DRESSING ON THE SIDE
$12.95
TURKEY AVOCADO SALAD
TURKEY WITH MIXED GREENS, TOMATOES, ONIONs, SHREDDED CHEESES, & AVOCADO. SERVED WITH POPPYSEED DRESSING ON THE SIDE
$13.95
Side Garden Salad
Tossed greens, tomatoes, cucumbers and croutons w/your choice of dressing
$4.95
Sub

side Caesar salad for

$5.95