Nachos Grande
mixed cheeses, seasoned ground beef, tomatoes, onions, and black olives piled high on our homemade tortilla chips and drizzled with our own lime crema.
*salsa & sour cream upon request.
full order is enough for 4 people.
Full Order – $14.95
Half Order – $11.95
Add Guacamole – $1.99
Substitute/Add Chicken or Chili (Seasonal) – $1.99/$2.99
Substitute/Add Pulled Pork (Seasonal) – $2.99/$3.99
osh kosh cubes
for the real 'cheesehead' a pile of Wisconsin white cheddar, battered and fried with ranch for dipping.
$8.95
fried mozzarella
lightly breaded & deep fried. served with homemade marinara sauce.
$7.95
cheese quesadillas
giant flour tortilla loaded with cheeses, tomatoes & onions. served with salsa & sour cream.
$8.95
Add Chicken $2.00
Cajun chicken quesadillas
giant floor tortilla loaded with cajun seasoned chicken breast, jalapeños, shredded cheddar and mozzarella. served with salsa and sour cream
$10.95
Potato Skins
always homemade! potato boats filled with mozzarella, cheddar and bacon. served with a side of sour cream.
full order – $9.95
half order – $6.95
fresh Italian bread
a mixture of olive oil, parmesan and an array of seasonings accompanied by a mini loaf of freshly baked italian bread
$6.95
pizza puffs
two deep fried pizza dough pockets filled with mozzarella cheese and homemade pizza sauce! Try them in plain or with beef
$8.95
italian quesadillas
giant flour tortilla loaded with italian beef, hot giardinera, cheddar and mozzarella and served with homemade marinara.
$12.95
buffalo shrimp
breaded popcorn shrimp with a big kick…served with ranch and buffalo sauce.
$8.95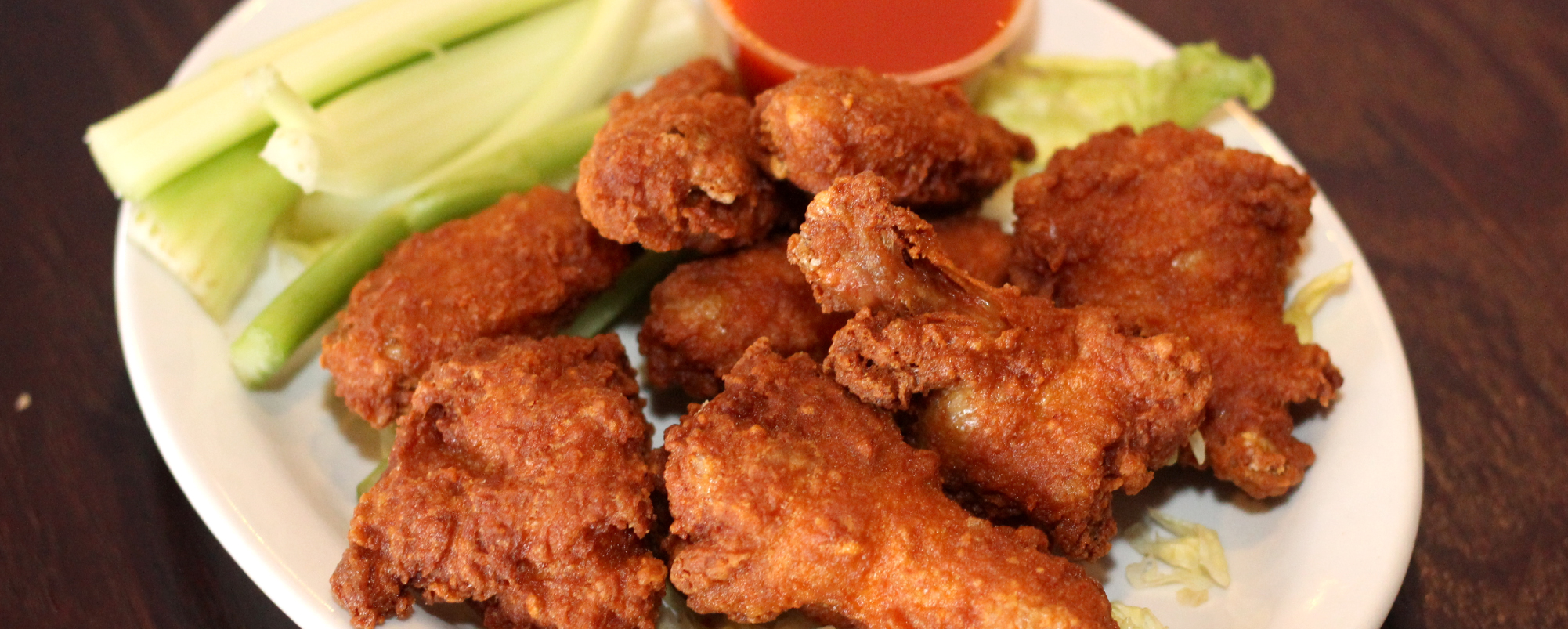 Wing Dings
8 WINGS – $13.95
12 WINGS – $17.95
served with celery sticks and your choice of dipping sauce.
fried pickles
try it! sliced pickles, battered, fried and served with ranch.
$7.95
loaded tater tots
fried golden & crispy then topped with melted cheddar and bacon bits
$8.95
just plain tots
$6.95
mini tacos
tiny fried tacos served with salsa and sour cream.
$7.95
chips/salsa/cheese
fresh tortilla chips with a side of nacho cheese and salsa.
$9.75
cod nibbles
our famous ale battered cod pieces with tartar sauce & lemon
$8.95
chicken tenders
mild breading over white meat chicken, fried & served with your choice of sauce. Try 'em buffalo style!
$8.95